Richard North
Biography
Dr Richard North is a British blogger and author. He has published books on defence and agriculture. In 2006 his blog (www.eureferendum.com) was rated by the Financial Times as the UK's most influential political blog. Dr North was previously research director in the European Parliament for Europe of Democracies and Diversities Group.
Books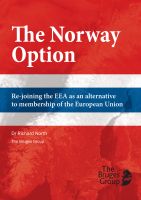 The Norway Option - Re-joining the EEA as an Alternative to Membership of the European Union
Many Eurosceptics look to Norway as a guide to how Britain would function outside the EU, but within the European Single Market. Europhilles decry it as an incomplete halfway house. But who is correct?
Richard North's tag cloud