Sailaja Reddy
Biography
Dr. Sailaja Reddy, a.k.a., Dr. Saila is a licensed and board certified physician specialized in Internal Medicine, diplomate of the American Board of Obesity Medicine, Diplomate of the American Board of Integrative and Holistic Medicine practicing in Boston. She attended lifestyle modification courses at Institute of Lifestyle Medicine, Harvard Medical School. Sailaja lives in Boston with her husband and two sons.
During her experience as a physician treating various kinds of patients, she has observed a high degree of correlation between lack of attention towards healthy food & living habits and chronic diseases.
With her 20 years of expertise in the medical field, she strongly believes many diseases can be altered, prevented, and at times even conquered with phytochemicals, antioxidants, and other nutrients consumed on a diet of organic vegan living food. Her goal is to illuminate new avenues to a healthier lifestyle. Her recipe creations seek to satisfy not simply the palate, but the mind and spirit as well, to revitalize your body.
She is passionate about health, wellness, nutrition, weight loss, fitness and more. Dr. Saila has given several presentations on Lifestyle modification in community gatherings.
Sailaja has an innate desire to share this path of discovery with you through her website and books.
She published several articles in her website. She is the author of an ebook on weight loss, 'Whittling away your waist'.
Where to find Sailaja Reddy online
Books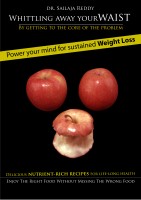 Whittling Away Your Waist
by

Sailaja Reddy
This book examines the role of diet and lifestyle change for weight loss. The introductory chapters describe the basics of healthy weight loss. The following chapters address weight loss tips - the foods to consume, the foods to avoid, detoxification, food fermentation, exercises and sample nutrient-rich recipes that help in your weight loss journey.