Patricia M. Hackett
Biography
Patricia Hackett is the third of six children who had the privilege of calling Majelon Manning, "Dad". She grew up with her father, mother (Minnie Manning) and siblings in Houston's historic Fifth Ward area from the 1950's to the 1980's. Her upbringing in this close-knit community resulted in years of precious memories, all of which included her father as the central character and star. She considers who she is today to be a product of all the wisdom that he has imparted into her life about the importance of family, character, generosity, and concern for others. Today, she can be found on many occasions gathered with her siblings, cooking, eating, laughing, and recounting stories of their amazing childhood or spending time with others, sharing the valuable life lessons that she learned from her father with friends and associates in the Houston community.
Books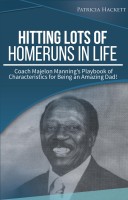 Hitting Lots of Homeruns in Life: Coach Majelon Manning's Playbook of Characteristics for Being an Amazing Dad!
by

Patricia M. Hackett
Patricia Hackett recollects a life growing up with the most amazing father in the world, Majelon Manning, who served as a remarkable coach, model, and mentor to many. Manning remained a highly-respected figure in the community, and when he passed away in 1988, he was honored in the fashion of a true dignitary by the thousands of people whom he'd influenced over the years.
Patricia M. Hackett's tag cloud