David Arthur Wisner
Biography
David Wisner has been a teacher in public schools for over 20 years. He loves to hike, paint, bike, take photos, watch the stars, read great books, and travel this great world that God has given us. He loves to create, either with wood, paint, metal, mind or words. Thomas Quantum in the Multiverse is his first book with book number 2 on the way. Check out the first two chapters of Thomas Quantum - Guardian at the end of his first book.
Books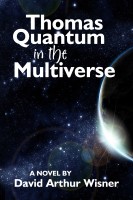 Thomas Quantum in the Multiverse
by

David Arthur Wisner
Thomas Quantum in the Multiverse takes the reader on an epic adventure into the multiverse, a universe of universes, to find a captive on the planet called Ilarnia. The story follows a 16 year old boy searching for himself as he searches for his father. He wrestles with relationships, self worth, love and hate as he journeys across this unique world and becomes entangled in the planet's struggle.
David Arthur Wisner's tag cloud
David Arthur Wisner's favorite authors on Smashwords