Denise Silk-Martelli
Biography
I have been a teacher for over 20 years. Writing and reading have always been passions for me. With two articles published in the school journal as well as two short stories in magazines, I felt it was time to write a book.
As a teacher I have always loved reading books aloud to children. I particularly love reading books that contain that thrilling element of suspense, and have the reader wondering just what on earth is going on, and what could possibly happen next. Mrs Crabolli's Curious Casseroles is a fast paced story with unexpected twists and turns, which was enormous fun to write. I hope you enjoy reading it just as much as I did writing it!
This book is aimed at 8 to 11 year olds.
Books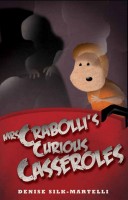 Mrs Crabolli's Curious Casseroles
by

Denise Silk-Martelli
Eleven year old James lives next door to Mrs Crabolli, also known as 'Old Crabby', a mysterious woman he believes may be up to no good. Could she really be eating the neighbourhood pets? Has she got a taste for… children? Could she possibly be capable of… murder? James and his friend Charlie are determined to find out.
Denise Silk-Martelli's tag cloud