David Salsburg
Biography
I have a Ph.D. in mathematical statistics and have published three academic books along with articles in refereed journals. I retired in 1995 after 27 years as a biostatistician at Pfizer Central Research, Pfizer, Inc. Before joining Pfizer, I was on the faculty of the University of Pennsylvania. During my years at Pfizer and since retiring, I taught at the University of Connecticut, the Harvard School of Public Health, and Connecticut College. Currently, I am an adjunct professor at Yale University. I have been honored as a Fellow of the American Statistical Association, a Distinguished Alumnus of the University of Connecticut, and given a Lifetime Achievement Award from the Pharmaceutical Research and Manufacturing Association.

My history of science book, THE LADY TASTING TEA: HOW STATISTICS REVOLUTIONIZED SCIENCE IN THE TWENTIETH CENTURY, was both successful and popular. The original hardcover edition was published in 2001. The paperback edition (Holt) is in its tenth printing. The book has been translated and has been published in Chinese, Korean, Japanese, Arabic, and Portuguese (Brazil) editions. It has remained consistently rated between 12,000 and 20,000 on Amazon.com. Almost 40,000 copies of the English editions have been sold. The readers' comments on Amazon.Com and the many favorable references to it on internet "blogs" indicate that many of these 40,000 readers are eager to see other books by me.
Books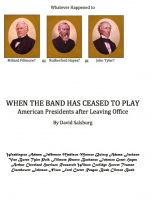 When the Band has Ceased to Play, American Presidents After Leaving Office
by

David Salsburg
What happened to Millard Fillmore, or Martin van Buren, or Theodore Roosevelt, for that matter? Thirty-four men have lived to the end of their service and retired from the most powerful office in the nation. What did they do then? Here are a series of vignettes about their post-presidential lives that capture the personalities and the times they lived in.
David Salsburg's tag cloud