Bill Stokes
Biography
Bill Stokes represents the average American with a deep love for the freedom his country provides which allows individuals to apply their efforts and talents to achieve personal success. He has experienced business from the ground up, spending the majority of his 30 year career as a consultant and executive in the information, communications, and technology fields. These experiences provided him with the opportunity to gain an understanding of how businesses really work; the effect politics have on business, and the importance of individuals in a business. He developed an interest in politics early on, and an appreciation for how political policies affect businesses, employees, customers and average citizens.
Where to find Bill Stokes online
Books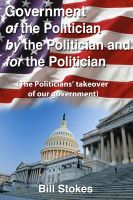 Government Of the Politician By the Politician For the Politician
by

Bill Stokes
Finally; a book about politics, written from the viewpoint and with input from average Americans. This book was written after going door to door to speak with average folks, who willingly shared their beliefs and opinions. This book exposés our politicians for what they are (self centered egotists), who are attempting to take over the government meant to be controlled by the American people.
Bill Stokes' tag cloud