Chris DiMarco
Biography
Chris DiMarco began his writing career at a young age, passing humorous notes in class. This evolved into full-blown book reports on classic literature such as Henry & Ribsy and A Fish out of Water. Having mastered combining words into sentences and later sentences into paragraphs, he challenged himself to rise to the next level of excellence--writing romantic letters to girls. He is the author of several acclaimed love letters including Yes, I Know Where Your Eyes Are Located and Five Minutes is a Long Time. But things really changed when Chris met W.T. Dupree ("Dub"). Once these two men met, they were both changed forever--almost as if they were one person. Destiny, for sure. Chris resides primarily in the western US. However, due to his recent financial success as a writer, he has been able to purchase a double-wide in the Midwest which serves as his sanctuary away from the pressures of stardom.
Where to find Chris DiMarco online
Books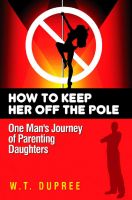 A New Father's Guide To Raising Daughters: How To Keep Her Off The Pole
by

Chris DiMarco
The time has come for a book that speaks in the language of the common man—a parenting book for today's generation of guys who are trying to raise daughters. However, until that book comes along, try reading this book by W. T. Dupree (also known as "Dub T" or simply "Dub"). Author Chris DiMarco partners with family man Dub T to tell the story of the Dupree Family—Dub and his four daughters.
Chris DiMarco's tag cloud