David Dubé
Biography
David W. Dubé is a native of CNY and resides with his wife and son in Camillus, New York. Although he had authored several technical papers, this is his first novel. Always interested in his family history, he decided to write a story for their son based on their French heritage. Their son Robert's main interests are: science, bacon and karate and all are integral pieces of this story. Having researched over 50 books to create this story, it is extremely accurate in historical aspects.
Books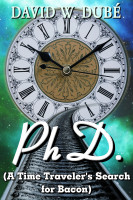 PhD. (A Time Traveler's Search for Bacon)
by

David Dubé
An historical novel about a physicist whose time machine malfunctions, placing him in 18th century France, weeks before the French Revolution. He travels to Paris hoping that members of the Royal Academy of Science can assist him. Federal agents in the 21st century search for his machine as pursues a solution to return to the present and the identity of the person who seeks to destroy him in 1789.
David Dubé's tag cloud