Steve Bowers
Biography
...a spacemad, madman who lives in York, England with his wife and two kids, both nearly grown now. He has read too much science fiction already, but the kind of plausible, hard SF he prefers is hard to find. So in 2002 he joined the Orion's Arm Universe Project (which had already been going for a couple of years) and now he writes his own. He is an incorrigible sceptic who would believe anything, given half a chance.
Where to find Steve Bowers online
Books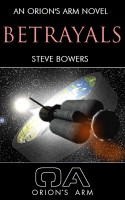 Betrayals
by

Steve Bowers
Life in the artificial colonies of Beta Sagittarius is comfortable and safe; so why is someone trying to kill the Blessed Dolphin? Why are scout ships searching the massive Oort cloud? And where does Auguste Gienah fit into it all? Wherever the investigation scratches away the surface, there is revealed a tangled web of lies and Betrayals...
Steve Bowers' tag cloud