E C Buchanan
Biography
E. Clyde Buchanan was born and raised in Kinston, North Carolina. He grew up working in his father's local pharmacy, Lenoir Drug Company. Following high school graduation, he attended pharmacy school at the University of North Carolina. Then graduate school in hospital pharmacy at Ohio State University. He served as assistant director of pharmacy at Duke Hospital for six years, director of pharmacy at St Johns Hospital in Springfield IL for 11 years and Senior Director of Pharmacy at Emory University for 18 years before his retirement from full time work in 2005. He now consults on compounding sterile preparations. Mr. Buchanan has been married to his beloved wife Jan for more than four decades. Together they raised three children to be successful adults. They have two grandchildren. The Buchanans live in Atlanta, Georgia.
Where to find E C Buchanan online
Books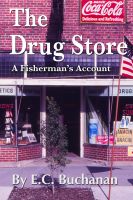 The Drug Store: A Fisherman's Account
by

E C Buchanan
E.C. Buchanan's autobiographical novel, "The Drug Store: A Fisherman's Account," follows a redneck teenager to adulthood in the rural south of the 1960's – developing relationships with women and African Americans and coming to terms with science, nature and religion.
E C Buchanan's tag cloud