E Cuellar
Biography
E. Cuellar has spent the last ten years studying financial literacy and self-improvement. She started out sleeping on the floor of an apartment that she could barely afford (because she didn't have a bed), believing she would never be able to move into a nicer apartment, let alone own her own home one day. Out of desperation, she went to the local library and checked out Rich Dad Poor Dad by Robert Kiyosaki with Sharon L. Lechter. She began reading and listening to everything she could about personal finances, investment and self-improvement. After following the advice that she received from these books, she was able to buy a home and has invested in several asset classes; including stocks, small businesses, commodities and real estate. She is continuing on her path to financial freedom, and has a desire to help educate others who are going through difficult situations so that they can learn the information they need to change their lives. E. Cuellar continues to study and learn everything that she can, and desires to share the knowledge that she has gained with others.
Books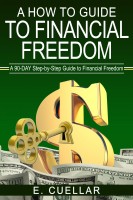 A How To Guide To Financial Freedom:
by

E Cuellar
This is an easy to use guide with step-by-step instructions on how to become financially literate and eventually financially free. In just 90 days, take control of your finances and your life by following the blueprint listed here.
E Cuellar's tag cloud