E. David Anderson
Biography
E. David Anderson is originally from Maine, but currently lives outside of Baltimore with his wife and daughter. He likes heroes who have the inner strength to be good in a time when morally gray characters are more popular and wishes he didn't have to drive an hour away to get Korean food. He obsesses too much on football and not enough on cleaning the house, and between tutoring gigs he manages to squeeze in a little bit of writing to validate the college degrees he isn't using. His influences include Steinbeck, Faulkner, H.P.Lovecraft, Robert E. Howard, Edgar Rice Burroughs, and the magical-realism of Gabriel Garcia Marquez.
Books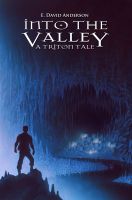 Into the Valley
by

E. David Anderson
(4.00 from 1 review)
Lieutenant Aurelian finds himself lost in the jungles, and following a brush with death, the soldier is captured by bandits. He is led into a subterranean valley ruled by Lord Abraham, the master of a forgotten technology. Aurelian must summon the will to overcome his physical limitations and utilize a curse of blood in an attempt to escape from the valley and return to the surface world.
E. David Anderson's tag cloud