Eddie Penny
Biography
Steve Pennykid writes children's stories using the pen name Eddie Penny. He also writes for an older audience under the name Stephen E Pennykid.

Born in 1952, Steve grew up on a Leicester council estate built to accommodate new families after the war and the baby boom of the 50's and 60's. Steve was an only child and although he had plenty of friends with whom to play football on the green outside his home, he had time on his hands to develop his love of the written word, and as a child always had something to read whether it be a football annual at Christmas, a thrilling children's story or a Look and Learn comic. Writing though did not come until much later.

Steve took early retirement in 2005, which gave him a few years to achieve a number of goals he set himself to do before he was 60. One of these was to write a short story and try to get it published. This was a big ask as he had never written anything before. However, it was achieved in 2010 when a local story-writing competition gave him the opportunity. By then he had written one story – The News from Spain. He began to amend this story to suit the framework required for the competition but it soon became a completely different tale – Smoke Gets in Your Eyes.

These are both gentle romances but Steve's writing has become more eclectic with two detective stories, from his Chief Inspector Robert Casey series, under his belt and now, under the pen name of Eddie Penny, a children's short story which it's hoped will soon become the first of a series called Yesterday's Train.

Steve also loves music and you will undoubtedly notice a common theme in all his stories of titles and chapters containing the names of songs, particularly those from the 60's and 70's.

Steve lives in Loughborough and is married with two sons, a daughter-in-law and two delightful granddaughters, to whom he dedicates his children's stories.
Books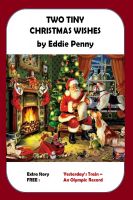 Two Tiny Christmas Wishes
by

Eddie Penny
Although he didn't really believe in Santa, Tim's mum had encouraged him to write a Christmas list. He had only two wishes on his list but would they be too difficult for Santa to carry out? An adventure on the way to school one morning would eventually strengthen Tim's belief in Santa and lead to his best Christmas ever. A delightful Christmas story for the young.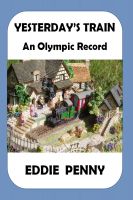 Yesterday's Train - An Olympic Record
by

Eddie Penny
Helena has a secret that she shares with her grandparents. Every Tuesday during the school holidays she spends the day with them. When the date of that Tuesday contains a seven, she knows she's in in for a magical time. This is the first in a series of Helena Eaves adventures that will both entrance and educate younger readers.
Eddie Penny's tag cloud