Eddie Jordan
Biography
Eddie Jordan, born 1957, is a native Dubliner where he lives and works with his wife Mary and three sons Andrew, Conor and Emmet.
Eddie studied local history through a joint course with NUI Maynooth and Dublin City Council Library and Archive, as a mature student.
Eddie recently retired from Dublin City Council (2012) where he worked for over 35 years. He is now devoting his time to his passions in life, like motorcycling, local history research and writing, fly-fishing and reading.
His other published work is the history of an Anglo-Norman Towerhouse just west of Dublin Airport called Dunsoghly Castle. The book is titled "If a Towerhouse Could talk; the History of Dunsoghly Castle and the Plunkett Family" and was published by Original Writing in 2010.
Books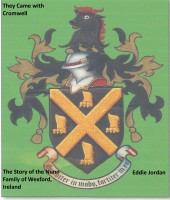 They Came with Cromwell The story of the Nunn Family of County Wexford, Ireland.
by

Eddie Jordan
This is the history of the Nunn family of wexford in ireland, who came to these shores with oliver cromwell with the sole purpose of conquering all opposition in ireland, religious, political and cultural. The nunn family settlement in wexford commenced with the granting of over 3000 acres of land confiscated from the defeated irish. The family settled and reigned in wexford for over 300 years.
Eddie Jordan's tag cloud