Eddie Weir
Biography
I am a single man over 30 who is still a virgin. This was not a religious decision nor a conscious choice to save myself, but time just went by and, after weeks of masturbation rituals, here I am. In that time, I have expressed my sexuality through writing. And now, thanks to the rise of self-publishing, I have formed Wild Cherry Books so that I may share my sexual side with others.
Where to find Eddie Weir online
Books
Reader, I've Made You My Girlfriend
by

Eddie Weir
It's already happened. It doesn't matter who you were before you read this. Guy or girl. Gay or straight. Married or single. You're my girlfriend now. And I'm your boyfriend. Your lover. We met at the kindergarten where you teach. I was there as you cleaned up. I seduced you. Undressed you. Made love to you among the tiny desks. Come along now, sweetheart. Let's have some more fun.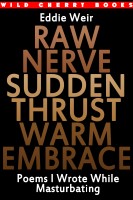 Raw Nerve Sudden Thrust Warm Embrace: Poems I Wrote While Masturbating
by

Eddie Weir
For one week, I typed out poems on my phone while touching myself. This book contains the unedited result - 30 poems of various lengths about sexual fantasies, musings on sex, and dreams of an ideal mate. It is a poetry book unlike any other - an unflinching look through a perverted subconscious, of desire flirting with darkness, of thoughts too all-consuming to be left off the page.
A Demon For A Devil (An Erotic Confession)
by

Eddie Weir
Starving to lose his virginity, a horny young man exposes the depth of his obsession with sex, discussing everything from his favorite masturbation rituals to his most stimulating sexual fantasies. But the more secrets he reveals, the more something else comes to the surface. Something dangerous. Something that cannot be stopped.
Eddie Weir's tag cloud