Edgar James
Biography
Edgar James grew up in Southern Illinois, completely in love with its personality, quirkiness, and values. He quick to assert: Southern Illinois is NOT Chicago.

He sang in numerous Southern Gospel quartets, often supporting himself at other types of work while pursuing the joy of singing in a quartet.

He quit singing at the age of sixty-six. He maintains he was like an aging ball player who knew it was time to quit when he could no longer hit the high hard one. Upon retiring, he set a goal for himself of using the unique inner workings of quartets to write a novel. He now lives in rural Minnesota.
Books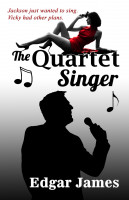 The Quartet Singer
by

Edgar James
Jackson is one of the best quartet baritones and music arrangers in Southern Gospel music. But no group will hire him. Vicky is working on behalf of Christian billionaire, Sonny Day. They put together a quartet of phenomenal talent with dubious backgrounds, hoping for an easy score. When a murder is connected to the group, a special ops agent is out to balance the equation.
Edgar James' tag cloud