Bethany Rae
Biography
Beth currently resides in Boise, Idaho with her husband and their Malamute. She has done a twist on the struggling author bit and works in a coffee shop instead of writing in one, and writes in her spare time at home. She enjoys hiking and camping, but not long walks on the beach because it makes her hair frizzy. The authors she considers to be most influential on her life are S.E. Hinton, C.S. Lewis, Mary Stewart, and the Lord Jesus Christ who is the Author of Life. He is her personal Savior and is who she must give credit to for any writing that affects someone in a positive way.
Books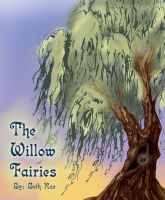 The Willow Fairies
By
Bethany Rae
Price:
$0.99 USD.
Words: 5,000. Language: English. Published: November 10, 2012. Category: Fiction
The Willow Fairies lead enchantingly happy lives, with only one problem, the Dragonfly Riders. The fairy princess Arianthe must protect her beloved home without leaving it behind forever when a fierce Rider leads an attack that threatens the happiness of every fairy, and tells her he'll only stop under one condition, a condition that would change the rest of Arianthe's life forever...
Bethany Rae's tag cloud