Edith D. Plettner
Biography
"Ever since the age of four, when our housekeeper sat me on her lap and read to me from 'A Child's Garden Of Verses' by Robert Louis Stevenson, I have been attuned to the rhyme and rhythm of poetry," explains published poet Edith D. Plettner.

"My desire in writing poetry," she continues, "is that my words connect with my readers. The beauty of the seasons, the joys and sorrows of love and life – may my readers know that another person experiences the same feelings. Then, although we may never meet, our hearts are united and we are one."

In her 20's – with a map on her lap – Edith left her Indiana home and drove to California. There she found work at EGW Publishing Co., Inc. (egw.com) where she served as copy editor, proofreader, and advertising manager for six national craft magazines. She worked there nine years.

When she learned that her father had died suddenly of a massive heart attack, Edith became "extremely homesick, almost a physical pain," and returned to her Midwestern roots.

She now resides in Northwest Ohio where, on occasion, her brother, sister, nephews, and families hear an explosive:

"BOOM!!!"

"Oh, that's just Edith again, thinking about us and bursting with pride."

Her writings include: Beauty In Bryan (A Poetic Glimpse Of Northwest Ohio), Cherries In The Snow (Poems For Every Season), Feminine Rhyme (Love Poems), and Spirit, Live In Me, Volumes 1 and 2. She also co-authored the color-illustrated children's story Mrs. Rabbit and Mrs. Elephant.

Order her books at: www.poemstoinspireyourheart.com
Books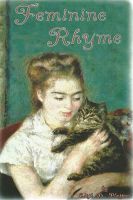 Feminine Rhyme, Poems Of Love
by

Edith D. Plettner
Love lost. Love found. In this collection of 30 romantic poems, you will find a friend. No longer need you feel isolated in your natural longing to love and be loved. Hearts pound and hearts break. "Silent Moon" slips alone through the heavens. "Loneliness" wakens and gnaws. Kisses like "Petals" fall soft upon an upturned face. "A Woman's Soul" is confessed, and you are loved.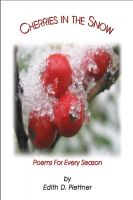 Cherries In The Snow, Poems For Every Season
by

Edith D. Plettner
The diverse beauty of every season is captured in this collection of 28 memorable poems. From "Cherries In The Snow" in winter to "Butterfly" in spring – from "Fireflies" in summer to "Wonderfest" in autumn – you will see, hear, smell, taste, and touch life against the backdrop of the Midwest seasons. Leave inspired to appreciate the beauty and wonder of your seasons, too...wherever you are.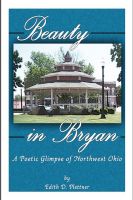 Beauty In Bryan, A Poetic Glimpse Of Northwest Ohio
by

Edith D. Plettner
Ever wonder what it would be like to live in a small town? From "Hometown Diner" where "smiles like biscuits are passed around," to "Whoa-Whee, Jubilee!" resounding from Courthouse Square, this collection of 30 poems will transport you to gracious, slow-paced Bryan, Ohio. Soothing farmland surrounds its borders, "each vista a vision and painter's dream." Explore for yourself, and find peace.
Edith D. Plettner's tag cloud