Elisabeth G. Wolfe
Biography
Elisabeth G. Wolfe is a freelance translator and editor from Llano, Texas. Her PhD in medieval literature and theology from Baylor University and her passion for Texas history serve her in good stead as she writes fiction, both fantasy and steampunk, featuring the history of Central Texas. On the academic side, her other interests include J. R. R. Tolkien, C. S. Lewis, the television series Supernatural, and fandom. She participates in local historical reenactments, demonstrating calligraphy, and serves as a volunteer assistant to the Llano County Emergency Services Chaplains.
Where to find Elisabeth G. Wolfe online
Books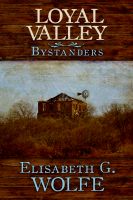 Loyal Valley: Bystanders
by

Elisabeth G. Wolfe
Determined to lure Lt. Col. Clint Donovan and his military intelligence team to their deaths, Number Seven's operatives attack Clint's friends and neighbors, orchestrating an Apache ambush and besieging a widowed horse rancher. Clint's choices set the stage for a cavalryman's finest hour and a town's hard lesson in courage, but the question remains whether anyone can be an innocent bystander.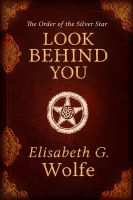 Look Behind You
by

Elisabeth G. Wolfe
In the spring of 1941, with the SS wielding dark magic and the courts of Faërie loath to intervene in mortal wars, the Round Table's true heirs must act to defend Europe's freedom in ways the Allied forces cannot. And the Nazis have good reason to fear, for as Merlin foresaw, the Order of the Silver Star is coming to make Hitler's worst nightmare come true.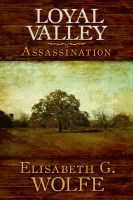 Loyal Valley: Assassination
by

Elisabeth G. Wolfe
In December of 1869, Maj. Clint Donovan, formerly of the Union's First Texas Cavalry, is asked to help military intelligence stop a plot to assassinate Governor-elect E. J. Davis—and then learns that the same conspirators murdered his parents and brother during the war. Can a blind engineer find the solution in a failed experiment before disaster strikes the Donovans again?
Elisabeth G. Wolfe's tag cloud