E.J. Weber
Biography
E.J. Weber used to read books at recess instead of jumping rope. The first thing she does when she moves to a new town is get a library card. She has a Bachelor's degree in Psychology and currently lives in Connecticut. Growing up, her heroes were Victorian writers and old movie stars. She has fond memories of reading science fiction and fantasy novels with her brothers, and they're still among her favorite genres. Some books she loves are: Catch-22, The Shipping News, Bleak House, Crime and Punishment, The History of Love, Jane Eyre, Wuthering Heights, and The Hobbit... but the list is endless.
Where to find E.J. Weber online
Books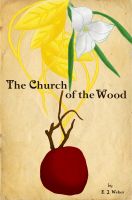 The Church of the Wood: A Faerie Story
by

E.J. Weber
Price: Free!
Words: 94,280.
Language: English.
Published: March 16, 2014
. Categories:
Fiction
»
Fantasy
»
General
(4.50 from 2 reviews)
An enchanting tale of romance and adventure. Father Jared is bored with Palace life until he receives a mysterious letter from a place that doesn't exist. The Church of the Wood needs a priest, but everyone knows that the magical woods have all been cut down. Only faerie stories remain, dark and foreboding. Surely even Father Jared isn't imprudent enough to wander off in search of one of those...
E.J. Weber's tag cloud