E. Karl Pierson
Biography
The fictional character, Willard K. Willis, was created to deliver Mr. Pierson's experience with and application of "The Teachings" in his personal life. Drawing on ancient sources and personal observation, Pierson presents a simplified picture of man that reflects the way he has internalized the basic tenets of The Teachings. Readers are encouraged to neither accept nor reject the ideas that Willard Willis expresses without testing for themselves, using observations and experiments in their own lives as the only required testing field. Mr. Pierson believes that we have an innate, though usually dormant ability to question and test the ideas of man and the man-made world for ourselves. This innate potential, combined with his common existence, is what qualifies him to write about ideas and observations of the living process. In fact, Mr. Pierson considers the notion that one's views must be certified or sanctioned by an institution to be a fallacy; such programs can be an impediment to "seeing" with clarity and completeness. No one needs third-party certification to examine and test ideas regarding the process of living. Mr. Pierson is in his sixties, married, has children and grandchildren, and has worked in the business machine and automotive industries. His interests include hunting, fishing, equestrian sports, music, painting, and many more, too varied to mention.
Where to find E. Karl Pierson online
Books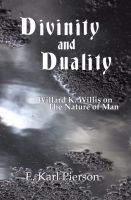 Divinity and Duality: Willard K. Willis on the Nature of Man
by

E. Karl Pierson
Members of a discussion group use real-life experiences to explore the nature of man, his relationship with divinity, and the illusions of devils.
E. Karl Pierson's tag cloud