Elmer Kauk
Biography
Elmer Kauk was born in 1929 in the family farmhouse during a snowstorm in Brady, Montana with only his Mother Anna in attendance. Anna and Leon, his Father, accompanied by Elmer's eight other siblings, had made the trek from Oklahoma to Montana just three years earlier, all packed into a 1926 Dodge sedan. An arduous trip indeed. The family settled down on a rented farm in this strange and sparsely populated place called Brady, Montana. Elmer was the last, and only Montanan born of his siblings and spent the next 18 years living the life of a farm boy to a farm hand through high school. The year was 1947 and he left the confines of home to enroll at Montana State College where he studied architecture. At the tender age of 20 he married his high school sweetheart, Frances. The college life had developed new goals in his life. He found a new interest in carpentry and building. At age 25 and now the father of 3 children, he moved his young family to California where construction work was plentiful so he could better provide for his family. He was widowed in 1966.

He and his second wife, Susan, were married in 1967 and added two more children to the family. For the next 30 or so years they raised their family of five and worked together on various building and real estate projects. It wasn't all smooth sailing. They retired to Rocklin, California, where they used their skills to create a beautiful backyard haven which includes a studio where Elmer pursues his passion for wood carving. He still pursues that passion. He took up writing to tell the story of his journey through life - from his German grandparents' migration from Russia to today's high technology world; from yesterday's carefree life to today's challenging world -- so his 5 children, 11 grandchildren and 4 great grandchildren (and counting) can compare those far apart worlds.
Books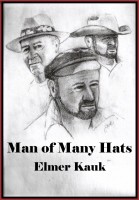 Man of Many Hats
by

Elmer Kauk
The youngest of 9 children traces his family's journey from Catherine the Great's Russia to life on a farm in Oklahoma and Montana in the 1900s. He journeys to California at 26 with his wife and 3 small children to work in construction. Their lives were filled with adventure, hardships, a lot of hard work, and happiness. This memoir was written for his children, grandchildren and extended family.
Elmer Kauk's tag cloud