Elaine Benton
Biography
Elaine born in 1963, England. Diagnosed at the age of five with Gaucher disease; a rare chronic inherited disorder, for which there is no cure. At the age of 44, she was dealt a second blow being diagnosed with Parkinson's disease. As her life rapidly changed, she began to write poems expressing what so many sufferers were going through but unable to put into words. With the desire to help others in the same situation, she wrote a book of poems and her latest book which is an inspiring story of her life, offering support to fellow sufferers and caregivers. Feeling she had something unique to offer, she also started writing a daily blog touching on varied topics all relating to living with chronic disease. Through writing and public speaking Elaine is turning her hardships into something of value and purpose, contributing to society by talking at various organisations and groups, now an international public speaker; her aim is to educate and inform. Elaine writes with stark honesty as she battles each day with determination, great spirit and humour.
Where to find Elaine Benton online
Books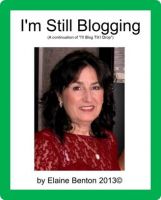 I'm still Blogging
by

Elaine Benton
Written with a sense of humour, a daily blog aimed at offering support and comfort to fellow Gaucher and Parkinson's sufferers and caregivers. Followed in over 70 countries around the world, to mark writing for a second year, the entire entries have been made into a book; the aim to raise public awareness about chronic disease. Good health is a precious gift that is often taken for granted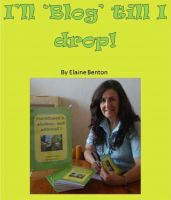 I'll Blog Till I Drop
by

Elaine Benton
I write a daily blog offering support and comfort to fellow Parkinson's sufferers and caregivers. I was diagnosed at age 44 and write with raw honesty about all topics relating to living with a chronic degenerative disease. Writing candidly from personal experience and straight from my heart enables others in similar circumstances to relate to what I am saying.
Elaine Benton's tag cloud