Dr. Patricia Delich
Biography
I have been guiding educators in the use of online educational technologies for more than 17 years working with hundreds of educators throughout California and the U.S., and around the world. Working side by side with teachers through the process of online course development, I have gained insights into the common pitfalls, problems, and needs teachers have while designing and developing online courses.

I developed a comprehensive program that guides educators through the process of designing and developing online courses. My first program was offered at City College of San Francisco (CCSF) in 2001. While at CCSF, two national and 11 statewide awards for exemplary online courses were obtained by faculty who worked with me. Because the program was so successful, I began to offer the program to other colleges and universities. As an eLearning consultant, I extend my expertise to colleges and universities to assist them in their online learning initiatives.

I hold a doctoral degree in educational technology from Pepperdine University, where I focused my study on online course design, development, and teaching. I regularly teach online. Courses offered have been: Design of Learning Environments with Emerging Technologies, Foundations of Online Teaching and Learning, Curriculum and Technology, Online Course Makeover, and Introduction To Online Learning and Course Design.
Books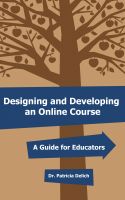 Designing and Developing an Online Course: A Guide for Educators
by

Dr. Patricia Delich
(5.00 from 3 reviews)
Written by an educator for educators, this ebook covers the practical questions that often arise when designing and developing an online course. Topics were collected and assembled from questions asked over my years of working closely with educators. It is designed to help educators create an online course that is usable, accessible, and engaging so students get the most out of an online course.
Dr. Patricia Delich's tag cloud