Elena Lasina
Biography
"The Sacrifice" is the first story in the 'Legends of Transylvania' series, and it is Elena's debut novel. Born in Romania in 1986, Elena was first inspired by several visits to Bran (Dracula's) Castle. In addition to her native language she is fluent in English and Spanish. When she is not writing Elena enjoys reading the poetry of Eminescu, listening to music, and spending as much time as she can with her family.
Books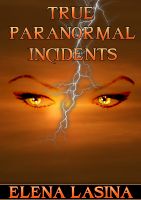 True Paranormal Incidents
by

Elena Lasina
Since I was a young girl I have been experiencing paranormal events that have troubled me and which I have never been able to understand, and this book details some of the incidents I have endured.
Elena Lasina's tag cloud
Elena Lasina's favorite authors on Smashwords