Erica Johns, MD
Biography
Erica received her MD degree from the University of Nevada School of Medicine. She is currently a practicing physician in Arizona, enjoys traveling, is an artist and has numerous hobbies including sculpting, painting, ceramics, mosaics, and sewing.

This book came about after much persuasion, and finally, that still, small voice, rather insistently, said "Finish the book."
Books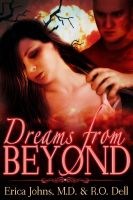 Dreams From Beyond
by

Erica Johns, MD
At first I was not sure if my dreams were real, or just something I imagined. When they began to come true, I realized the meanings were far more significant than I first imagined. Not sure why I was chosen to have these dreams, I decided to share them. I still do not know what they all mean, but as more and more details are being revealed as I study, I knew for sure I should write them down.
Erica Johns, MD's tag cloud