Elizabeth Moss
Biography
Elizabeth Moss reads and writes Regency romances. Her influences include the utterly fabulous and inimitable Georgette Heyer, Mary Stewart, Dorothy L. Sayers (especially the Lord Peter Wimsey stories), Ursula Le Guin, Mary Renault and Jean Plaidy. In more contemporary reading, she finds solace and wit in the smooth prose and gorgeous characters of Mary Balogh's Regencies, and the many other talented novelists working in the Regency romance genre these days, such as Louise Allen, Nicola Cornick and Joanna Maitland. All these influences, plus her own restless temperament, find their way into Elizabeth Moss's stories.
Where to find Elizabeth Moss online
Books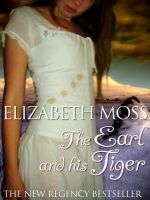 The Earl and His Tiger
A lively full-length Regency romance. Stranded in a remote cottage during a snowstorm, the rakish Earl of Stanton is staggered to discover that his sturdy "tiger" - an elite Regency groom - is actually a female in disguise. Being a duke's daughter had brought Lady Jane de Montfort nothing but misery. So she had run away to pursue the only passion she had ever known – a love of horses!
Elizabeth Moss's tag cloud