Elizabeth Far
Biography
After acquiring an M.Ed. degree in Administration of Learning Resources and and a Certificate of Completion from Capernwray Bible School in England, Elizabeth Far has continued to learn and study, both as a student under many nationally known Bible teachers and as a teacher herself. Her goal is to be a lifelong learner, ever seeking to know the Lord Jesus Christ better. She and her husband and their children live in the Pacific Northwest.
Where to buy in print
Books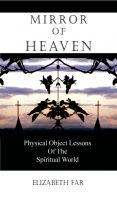 Mirror of Heaven: Physical Object Lessons of the Spritual World
Mirror of Heaven points to a powerful, creative God who knew exactly what He was doing when He spoke the world into being. His intent, from before the beginning, has been to make Himself known to mankind.
Elizabeth Far's tag cloud