Elizabeth Owen
Biography
Elizabeth Owen, one of nine children, wrote The Tin House to pay tribute to her wonderful parents Tilly and Jim. This is Elizabeth's first book, but it upholds the values she lived with all her life: family, love, loyalty, and helping one another. She was exposed to asbestos for ten years at her job, and also smoked heavily, which started her on a path that eventually led to a lung transplant.

Elizabeth's family included two dearly loved brothers who valiantly battled cancer. Elizabeth, with the help of her family, cared for her mother Tilly, until the last few months of her life. Tilly died at age 86.

Elizabeth and Dean have 5 children, 12 grandchildren, and 3 great granddaughters. The story in this book ends in 1999. In 2004, Jay and Thomas, her sons, bought The Star and Garter where the family shared so many happy times.
Books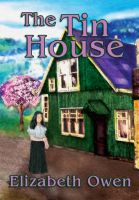 The Tin House
by

Elizabeth Owen
Life is unbelievably cruel to Tilly, a young girl orphaned at the age of 10—raised in a convent, then placed into service on a dairy farm. Tilly marries Jim, and together they raise 9 children. At the Tin House, where they live, friends and relatives gather for laughter, bonfires and games of rounder and tracking in the fields, the kettle is always on for a cuppa, and no one ever goes hungry.
Elizabeth Owen's tag cloud