Betty Lynn Tims
Biography
Betty Lynn Tims is a registered yoga teacher and certified meditation teacher. She has healed herself from numerous stress-related syndromes such as migraine syndrome, panic attacks, and back pain through self love, compassion, and the healing arts of yoga and meditation. While all maladies cannot be healed through these practices, a program of meditation and techniques to combat the stress of sickness can be helpful when supplementing appropriate medical treatment to deal with the stress of the illness. Please consult your doctor for any real or perceived medical problem. The author assumes no liability for the success or failure of the techniques advocated in this guide or for any medical outcomes you may have as related to these practices.
Where to find Betty Lynn Tims online
Books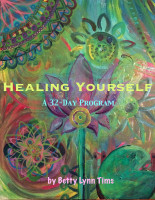 Healing Yourself
by

Betty Lynn Tims
This 32-day program offers techniques and exercises for dealing with life's inevitable downturns, whether it be simple tension headaches, cancer, or other maladies that may affect your well being. Bring yourself back to stress-free living with exercises in meditation, positive self-talk, guided imagery, visualization techniques, journaling, prayer and more!
Betty Lynn Tims' tag cloud