Ella johnson
Biography
Born 9/22/45
I lived my childhood years in Kimball, NE, in a farm/small town setting. I went to school in said town, and state, graduating from high school in 1964, I went to one year of college and took several adult ed. classes and graduated from a business school in 1969.

I have traveled to Europe, Mexico and Russia with Marilyn Hickey Ministries.

I was published in poetry several years ago. I have pursued my writing career and have written several novels and short stories.

I work part time here in Kimball and live locally.
Books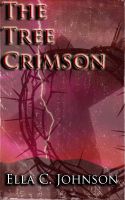 The Tree Crimson
by

Ella johnson
This is synopsis about my Novel The Tree Crimson. What would it have been like to have lived during the time of Jesus Christ? This story is fiction, but having interwoven the Bible story through the eyes of those living during that time period.
Ella johnson's tag cloud