E. L. Lewis
Biography
Ethel has enjoyed the priveledge of growing up in a small country town on a farm as part of a large family. Farm life lends its own form of education and wisdom. Her family was no different than many other large families that struggled during the great depression, the wars, sickness and deaths. But these things only tended to draw families together and strengthen their character. No matter the difficulties, there was always warmth, love and laughter. Later she was blest to be a Sunday School teacher; Director of ESL Missions at her church, and involved in foreign missions. She is a proud grandmother who has already published short stories of daily life seasoned with a little salt and pepper - ups and downs - laughter and tears. It is her hope that this little book of inspirational stories will bless you and help you see that you are never alone and there is always a reason to smile.
Where to find E. L. Lewis online
Books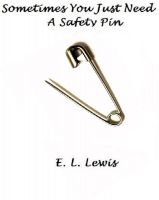 Sometimes You Just Need a Safety Pin
by

E. L. Lewis
This little book of inspirational stories is your shiny safety pin. Just like that hem needs a little help, sometimes our spirit can also use a little repair. Grab a moment somewhere in your busy day, take a deep breath, let it out slowly, and relax as we fix what needs fixing. Each story is written with love by someone whose been there, done that. We'll get through it together.
E. L. Lewis' tag cloud