Michael.J. Rowland
Biography
Statement – The Painted Novel

The paintings I am working on at the moment are all part of an ongoing conceptual project to fit in with a Dadaist novels I am writing. Individual paintings are occasionally used as chapters of the novels.
This form of writing is close to reaching a meditative dream state – recognising forms and images in the same detached way that the mind throws ideas into the maelstrom of ones sleep-thoughts.
It helps to reveal oneself to oneself. Accepting chance and avoiding the need to 'show off' you can discover many things about not only yourself now, but yourself tomorrow/ next week / next year.
I don't write of things that have happened but of things which have not yet happened. The pen speeds itself to beat my thoughts to it. If we have time to think a thought, then it has already been rehearsed, analysed before we go to all the effort of writing it down; that way we can hide from ourselves.
Within the writings of the Dada group one could often find scribbles / squiggly lines / and erratic changes of font. This all created a lovely syntax between the word as a representation of a thing or the word as a thing in itself (a picture).
The purpose of painting certain chapters on canvas, as collages, is to produce in the reader (when reading the typed word) a true sense of colour in the text; a sense of urgency, a sense of abstraction, of life.
"There is nothing to say – That is why there will never be an end to all the books that can be written." E.M. Cioran
The joy of writing is the thing. Inexplicable rallies of cajoling cadences buffeting the spinning, waking dream – The banshee howl of JOY JOY JOY in the midst of the most horrific nightmare; the joy in the pain; the light headed trip in the scream.
Books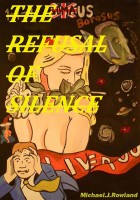 The Refusal of Silence
by

Michael.J. Rowland
The prominent themes in R.O.S. are art, religion and paranoia. Through three incarnations our protagonist struggles to reconcile lifetimes spent rebelling against, and at war with, both himself and his given situation. Written in the authors own peculiar, poetic style he connects the locations, the characters and their philosophies in a humorously abstract manner.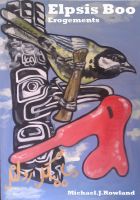 Elpsis Boo
by

Michael.J. Rowland
The human search for love and truth written in a seriously playful Dadaist fashion.
Michael.J. Rowland's tag cloud