Elsie Nelson
Biography
This compilation of verse by the children of Elsie Nelson is a tribute to a great lady. Many of her poems were written by the light of a kerosene lamp, in quiet corners, stolen moments, or late at night when sleep was no escape from the cares of the day. Mainly they went unnoticed except for an occasional scrap of paper rolled up inside an old sugar bowl in the cupboard.
Where to buy in print
Books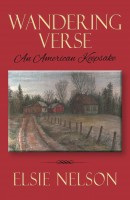 Wandering Verse
by

Elsie Nelson
Crafted on the Marquette Iron Range in Michigan's Upper Peninsula during the challenges of the Great Depression, Elsie Nelson's Wandering Verse captures the daily life of a woman, wife, and mother of the 1930s. Completely immersed in the demands of raising eight children while living in the wilderness, Nelson recorded and cataloged her life with pencil stubs and scraps of paper.
Elsie Nelson's tag cloud