Elyse Springer
Biography
Elyse is an author and world-traveler, whose unique life experiences have helped to shape the stories that she wants to tell. She writes romances with LGBTQIA+ characters and relationships, and believes that every person deserves a Happily Ever After. When she's not staring futilely at her computer screen, Elyse spends her time adding stamps to her passport, catching up on her terrifying TBR list, and learning to be a better adult.
Where to find Elyse Springer online
Series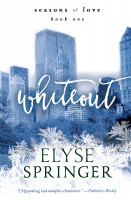 Seasons of Love
by

Elyse Springer
New York is the city that never sleeps: where everything can change in the blink of an eye, and where anything is possible—especially romance. In the bitter cold of winter or the impossible humidity of mid-summer, your own Happily Ever After might be right around the corner. The people of New York come from all walks of life, and the relationships are just as diverse. So whether you're a waiter or an aspiring actor, a banker or a model, falling in love can happen quicker than the seasons change.
Books
Elyse Springer's tag cloud