Chris Livingstone
Biography
I have spent much of my working life as a teacher, initially at secondary level then at tertiary level. I also spent many years devising and delivering courses for adults. I still love teaching although these days it's on a much more informal level. I've done a lot of writing over the years, mainly curriculum and technical stuff, and I've developed a reputation for being able to deliver material in a way which is both easy to read and easy to understand. I'm also known as a bit of a pedant with a concern for detail and facts. While friends can find this a little excessive, even annoying, my attention to detail does make me a good proofreader and editor. It also puts me in a good position to produce a little book about such a ubiquitous grammatical error as the apostrophe.
Books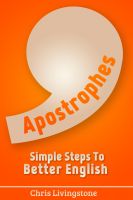 Apostrophes: Simple Steps to Better English
by

Chris Livingstone
Apostrophes. This simple punctuation mark causes problems for so many people, students and graduates, trades people and business executives, secretaries and scientists, even journalists and writers. If you can't decide whether to use 's or s' (or neither), if you can't remember whether to use its or it's, if you get muddled up between plurals and possessives then this booklet should help you.
Chris Livingstone's tag cloud