Adrian Keller
Biography
Adrian Keller worked for James Tipler in 1986, the same man who 32 years before hired Elvis Presley as a truck driver. During that time, Tipler shared a wealth of facts about Elvis. Adrian currently tutors mathematics, physics and science at high school and college level in the Memphis, Tennessee area.
Books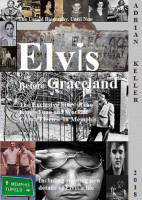 Elvis Before Graceland
by

Adrian Keller
With over 70 unique and never-seen photos, "Elvis Before Graceland" is a treasure trove of documents and events never released or told before. "Elvis Before Graceland" is a must-read for all who hope to understand Elvis' life.
Adrian Keller's tag cloud