Elizabeth McNew
Biography
Raised in the small town of South Lake Tahoe CA, Elizabeth McNew is in the progress of publishing her first, 4-part series "The elements of life". Along with writing, she spends her days battling off bird size insects, consuming too much coffee, and hiding in her bug net as she peacefully types away. She is happily married with a beautiful daughter and a beautiful life.
Where to buy in print
Videos
Testing the Waters (take 2)
My official trailer can be seen on my youtube channel (confessionobsession) enjoy!
Books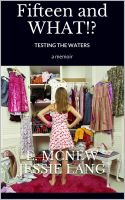 Testing the Waters (Fifteen &...What!?)
Planning her own pregnancy at the age of fourteen was more than a mistake. This choice would soon lead Elizabeth to the darkest places that life has to offer; emotionally, physically, and spiritually. She raises her family as a productive and healthy teenage mom for three years. Until the unthinkable happens. A mothers most horrific nightmare.
Elizabeth McNew's tag cloud