Ellen Metter
Biography
After trying her hand at radio announcing, stand-up comedy, and department store sales, Metter found a career "soul mate" in librarianship. She is currently a research librarian at the Auraria Library in Denver, Colorado -- a library in the unique position of serving three schools: the University of Colorado Denver, Metropolitan State University of Denver, and Community College of Denver. In 2011, she received the Excellence in Librarianship Award from the University of Colorado Denver. Metter holds an MA in Information Studies from Philadelphia's Drexel University and a BA in Theatre from Rutgers University. She's the author of two books from Writer's Digest Books, including Facts in a Flash. Along with artist Loretta Gomez, she self-published Cheerfully Childless, the first humor book on the topic of choosing to be childfree. Originally a New Jersey gal, Metter now lives in Colorado with her partner Mark and a couple of cute kitties.
Where to find Ellen Metter online
Books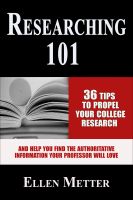 Researching 101: 36 tips to propel your college research and help you find the authoritative information your professor will love
How do you find scholarly journals to support college presentations and papers? What are scholarly journals? Are there reasons for students to use the campus library – in addition to "Googling it?" These are a few of the questions answered in RS 101. Written by an academic librarian, RS 101 is meant for current and future college students - and anyone wanting to brush up on researching skills.
Ellen Metter's tag cloud