Emily McCombs
Biography
Emily McCombs was born and raised in a small town in Kentucky at Twin Lakes Regional Medical Center on July 29, 1990. As a child she enjoyed drawing and playing dolls with her younger sister. She first learned of her hidden writing talents when she read the Harry Potter series in middle school, but didn't uncover the idea for this novel until she was in her late teens and out of high school. Emily now lives with her loving husband, James McCombs Jr, in an apartment in Sevierville, Tennessee, with their fish and tons of fantasy novels. Although a lot has changed in her life, one thing will always remain; friends, family and God come first, and no matter where life takes her she will always be true to herself and her roots in a small town.
Where to buy in print
Books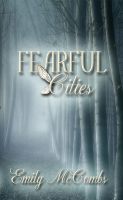 Fearful Cities
by

Emily McCombs
Aislinn Celthric never wanted to rule her father's kingdom, but after he goes missing in Japan, she is forced to take over. All seems well until a routine patrol turns into a deadly fight, officially declaring war against the demons of Earth. With the help of her friends and a mysterious new fairy named Dest, Aislinn must prepare her people for a battle.
Emily McCombs' tag cloud