Emma Hillman and Kiki Howell
Biography
Ever since she was young, Kiki Howell has loved to listen to a well-woven tale with real characters, inspired plots, and delightful resolutions. Kiki could spend hours lost in a book, and soon she knew that creating lives, loves, and losses with just words had to be the greatest thing that she could do. To that end, she pursued her study of literature and writing, earning a bachelor's degree in English. She then followed in a Master's program in Creative Writing.

"After a long break having my boys, I finally just had to write again. And, as soon as I gave the stories the space, they entered it. It's both awesome and humbling to find the words in my mind become characters on a page and create their lives."

She has now had over twenty stories published between seven different small presses. She could not be more thrilled or grateful to see her creations polished and out in the real world. Although, a bit of caution, most of her stories tend to hang out on the graphically sexy side of town. You can visit her athttp://www.kikihowell.com.

Emma Hillman never plans her stories. She just lets the characters have fun and hopes the ending will make sense. It usually does.

Besides being a multi-published author of erotic romances, she works full-time and lives in Paris with a (nice) husband, a (cute) little girl, and two sweet but (very) loud pets. She also reads far too much as the postman (and her banker) could attest, but shhhh.
For more information on her current and future releases, you can visit her blog at http://emmahillmanbooks.blogspot.com/ or chat with her on Twitter (@droptheglasses). She'd love to hear from you!
Books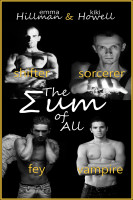 The Sum of All
by

Emma Hillman and Kiki Howell
When a spell goes wrong and two witches find themselves stuck in a house with a plethora of paranormal creatures, tension rises and sparks ignite.
Emma Hillman and Kiki Howell's tag cloud