Linda Six
Biography
I have always been what you might call a bookworm, always my nose down a book. I spent a lot of my child hood and teenage years hiding in the school library, reading and reading. One of my all-time favourite is the fantastic comic Linda and Valentine by Jean-Claude Mézières and Pierre Christin. I urge every sci-fi fan to read these beatiful comic-books. This, thogheter with many hours reading Jules Verne, created a early interest in science-fiction.
This is a bit of a paradox, I grew up on a farm in the country side, far from any kind of city. The entire forest was my playground, and since I grew up in the northern hemisphere, I spent many sleepless winternight´s watching the stars and northen lights. I liked the thought that the universe is infinite, that the stars was so very far away. The thought came early in my life that I would like to see that infinity, all the possibillities that is waiting out there for us. I always though of science-fiction as a experiment for thought. You make a set of rules, fantastic or not, and the trough people in it. How would they react? What would happend?
I always have a great deal of fun when thinking out a new universe to a book.
Today I live with my dog, I spend a lot of time out-doors, admiring the nature of our beutiful world. I once saw a documentery about aliens or something, and a man said something very deep.
"If we are alone in the universe it says something. It tells ut that life is rare, and precious."
Books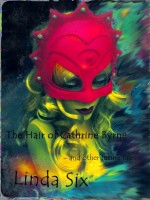 The Hair of Cathrine Byrne and other future tales
by

Linda Six
Four short science fiction stories, all with a female lead. The different stories explore four different possibilites, from utopia to dystopia, from the female leads perspective, and how they deal with their own reality.
Linda Six's tag cloud