Ensan Case
Biography
Ensan Case served a two-year hitch in the United States Navy. He wrote Wingmen in 1978 at the age of twenty-eight. Avon Books in New York published it in 1979. After one printing, sales stopped. Alas, he turned to other pursuits. In 2011, during a move, he discovered his original file box of notes for the work. On a whim, he googled "Wingmen Ensan Case," and was stunned by the book's popularity, often called a classic gay romance. Lethe Press is pleased to work with Mr. Case in keeping this book in-print.
Where to buy in print
Books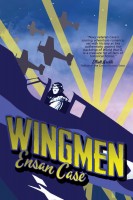 Wingmen
by

Ensan Case
First published in 1979, this World War II novel, with overtones of From Here to Eternity, was a precursor to the gay romance genre. Jack Hardigan's Hellcat fighter squadron blew the Japanese Zekes out of the blazing Pacific skies. But a more subtle kind of hell was brewing in his feelings for rookie pilot Fred Trusteau.
Ensan Case's tag cloud