Enzo Marconi
One morning in the early nineteen seventies, shortly after sunrise, an unusual silence fell over the African bush. Birds stopped chattering in the surrounding trees and wild animals came to a standstill, lifted their heads and listened to the strange sound of silence they had never heard before. Moments later a loud shout issued from a window of a small bush hospital in Mocambique, Southeast Africa. It was not a shout of anger or fear, it was simply a birth-shout, announcing Enzo Marconi's arrival to the world.

Enzo continued to live with his Italian-born parents in Mocambique until nineteen seventy-seven. During those first years of childhood he was schooled at home by his mother and in the bush by his nanny, an African woman called Johanna. She taught him how to survive in the bush, how to respect and understand wild animals and how to fall in love with Africa's ancient, dark beauty. Until this day Enzo continues to believe that the bush education he received from Johanna and her friends and family was far more important than any education he received afterwards, including school and university.

When civil war forced Enzo's family out of Mocambique in nineteen seventy-seven they fled to the neighbouring Republic of South Africa. His father, Roberto, was offered a job in Pretoria and the family moved into a house in the northern suburbs of the city where Enzo finished school.

After school, in an attempt to follow in his father's footsteps, he started studying engineering at the University of Pretoria. Within the first year of his studies he realized that he had no true interest in engineering and changed to Human Sciences, majoring in English Literature, Drama Theory and Criminology.

Upon completion of his degree, Enzo did his military service. A week after finishing the obligatory term of service, Enzo started doing what he had always dreamed of doing: he went travelling into Africa, back to the place where he believed his roots were and always would be. He visited Zimbabwe, Zambia, Malawi, Mocambique, Tanzania, Kenya and Zanzibar, and fell in love with the continent all over again.

During the years to follow Enzo worked in advertising, as labourer, builder, farmworker, waiter and on movie sets around the Cape Town area. Whenever he had time and money on hand he travelled into Africa, trying to absorb as much of the energy of the land as possible.

It was during one of these trips that he met the popular writer André Ferero. When they learnt that they grew up in the same city, even attended the same university, they instantly became friends. It was due to André's insistence that Enzo finally started working on his first novel, A Perfect Replica.

Enzo currently lives in Aix-en-Provence, France, with his girlfriend and two cats, in an effort to look for his European roots. Although he finds life exciting and interesting in the old world he often longs for the African bush, with its animals and constant element of danger.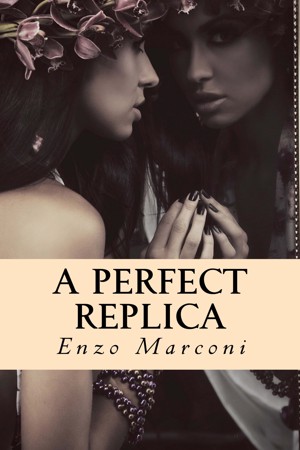 A Perfect Replica
by

Enzo Marconi
(4.00 from 1 review)
Aiden Card has lost something important and is looking for a replacement. But, he is confused and does not know where to find it. In order to end this state of confusion he decides to switch his feelings off. Like a computer, he goes into shutdown mode, protecting himself from the world of emotions. But he soon discovers that - being human - shutdown is not the ideal state to live in.