Enzo Stoini
Biography
I am a 33 year old male, born and raised in Auckland, New Zealand. I am currently back in New Zealand after living in overseas for a while. As of yet I am unpublished (well no papery things tied up with string), until now I didn't have any great dreams of being an author. However after using this program myself I felt that I should share the system that worked so well for me. I also felt I could lend something new to this category of writing. I did a fair amount of research before writing this book and found nothing along a similar line to what I was planning to write. There was no hard talking, comedic book that was easy to read and wasn't padded with pages and pages of useless information. I believe all the reader needs to lose weight is to have accurate information… if it is packaged in such a way that they can enjoy absorbing that information it can't fail. So as it says in the book, I am not a dietitian, or a doctor or scientist. I am just an average guy who has gone done the hard yards loosing weight and wanted to share my story and knowledge of a system that works, long term, with others.
Where to find Enzo Stoini online
Books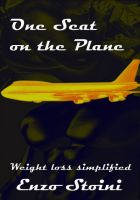 One Seat on the Plane
by

Enzo Stoini
This is a light-hearted look at dieting. My purpose was to provide an entertaining diet book that provides the tools to fix the problem. A humorous, scathing story of weight loss... It illustrates my views of why we overeat and how to fix the problem based on my own personal loss of around 60lbs with no real difficulty. Lose weight and have a laugh at the same time, win win surely?! Enjoy.
Enzo Stoini's tag cloud