Erin Osborne
Growing up, I was constantly reading anything I could get my hands on. Even if that meant I was reading my grandma's books that weren't so age appropriate. I started out reading Judy Blume, then graduated to romance, mainly historical romance, and last year I found an amazing group of Indie authors that wrote MC books. Instantly I fell in love with these books.
For a long time, I've wanted to write. I just never had the courage to go through with actually doing it. During a book release party, I mentioned that I wanted to write and I received encouragement from an amazing author. So, I took a leap and wrote my first book. Even though this amazing journey is just starting for me, I wouldn't have even started if it weren't for a wonderful group of authors and others that I've met along the way.
I am a wife and mother of five children. Only one girl in the bunch! My family and friends mean the world to me and I'd be lost without them. Including new friends that I've met along the way. I've lived in New York my whole life, either in Upstate or the Southern Tier. I love it during the summer, spring, and fall. But, not so much during the winter. I hate driving in snow with a passion!
When I'm not hanging out with my family/friends, reading, or writing, you can find me listening to music. I love almost all music! Or, I'm watching a NASCAR race.
I look forward to meeting new friends, even if I'm extremely shy!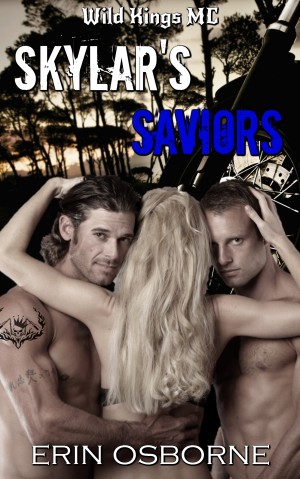 Skylar's Saviors
by

Erin Osborne
Skylar is a single mom of twins that sticks mostly to herself. She has confidence issues and all of her focus is on her children. Cage and Joker come into her life and everything changes. Every time Skylar fights against her attraction to the two men, she finds that it's a losing battle. Can they survive her past coming back to haunt her? Are Cage and Joker willing to stay despite her insecurity?