Madison Boswell
Biography
What's up humans (and non-humans) of the universe! I am a: nerd, tomboy, love Spiderman, think Loki is better than Thor, my favorite number is 13, I'm nocturnal, and I prefer avoiding people, and if you are trying to track me down (for whatever creepy purposes) you can find me either in a dark corner a) reading b) writing c) avoiding you d) listening to alternative music or e) some or all of the above in any combination. I've been writing books since 5th grade, inspired by my awsome sauce language arts teacher who helped me discover my passion for writing. I'm currently working on two book series, both fantasy with some horror-ish scenes and romance-ish scenes. I hope to be publishing them soon! God bless all the crazy writers!
WARNING:
Extreme introvert ahead; if you wish to strike up converstation that will be worth any of your time, please submit a written note pertaining to one of the thirteen subjects. 1) science (perferably neurology, biology, geology and palentology). 2) reading (perferably fantasy or horror. 3) writing. 4) Harry Potter. 5) Spiderman. 6) Vladimir Tod. 7) James Patterson. 8) Marvel (Avengers, Thor, Loki, Iron Man, etc.) 9) Steven King. 10) Kathy Riches. 11) Grimm Fairy Tales. 12) Horses. 13) Amanda Hocking.
Books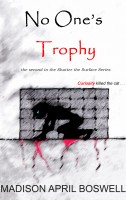 No One's Trophy
by

Madison Boswell
In this sequel to 'Don't Go In the Water',Tredecim grows even more deadly. The day of Cyan's capture marked the beginning of a time of no death . . . but the moment Cyan is freed from the sadistic hands of the MBs by Jack's Rebellion and sets toe in the lake, teenagers begin to die.With the bodies piling up, Jack and his friends must decide who 'Red Eyes' really is and who lives . . .and who dies.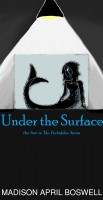 Under the Surface
by

Madison Boswell
My life forever changed when I was Cursed to be a mermaid when I was eight. I must guard my secret from the humans unless I want to spend the rest of my life as a science experiment in a lab. Now, due to rather unfortunate . . . circumstances, my fate rests in the hands of those who hate me, love me, and those who've I've been lying too for over eight years. Now, what am I supposed to do?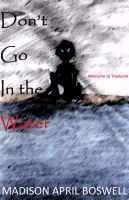 Don't Go In the Water
by

Madison Boswell
Reece Wind is a average girl. Her parents are divorced, and every year, she has to go live with her dad in the queer town of Tredecim. Tredecim is built around a deep, dark lake that everyone is terrified to swim in. Many children mysteriously drown every year, and up until now, everyone thought it was just coincidence. Until Reece figured out that exactly thirteen people drown every year.
Madison Boswell's tag cloud