Eric Clay
Biography
Eric Clay makes his home in the Southwestern United States with his wife and two children. His hobbies include boating, photography, and now writing. He has often been accused of having an overactive imagination, and he readily admits to the truth of that. He enjoys anything having to do with science fiction, the paranormal, or solving mysteries. Alone is his debut novel, which is--you guessed it--a sci-fi, paranormal, mystery.
Where to buy in print
Books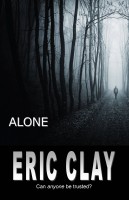 Alone
by

Eric Clay
Roy Clawson awakens from a nightmare...or was it more than a dream? After his terror subsides, he reexamines his life in the small town of Fairview. Why doesn't he fit in? Will he discover the truth...or does he even want to know the truth?
Eric Clay's tag cloud