Eric Wampler
Biography
This is Eric Wampler's first book but certainly not his first narrative about Crusader Kings II. A seasoned player of the game, as "Philo32b" he maintains a weekly-narrative blog (an "After Action Report" or "AAR") on the Paradox Interactive forum that has more than 286,000 views and more than 1,100 replies from fans, which is by far the most activity in the forum for the AARs on this game. The AAR, "In the Shadow of Certain, Painful Doom: Abyssinia," has won several forum awards. Eric lives in Wisconsin, USA.
Books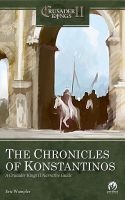 The Chronicles of Konstantinos: A Crusader Kings II Narrative Guide
by

Eric Wampler
This fictionalized strategy guide to Paradox Interactive's award-winning strategy game Crusader Kings II is a complete novel in its own right. At the same time the book imparts valuable advice on how to survive to players of the game, especially when playing as a vassal to the ruler, when waging war, and when using your spymaster in the medieval world of Crusader Kings II.
Eric Wampler's tag cloud